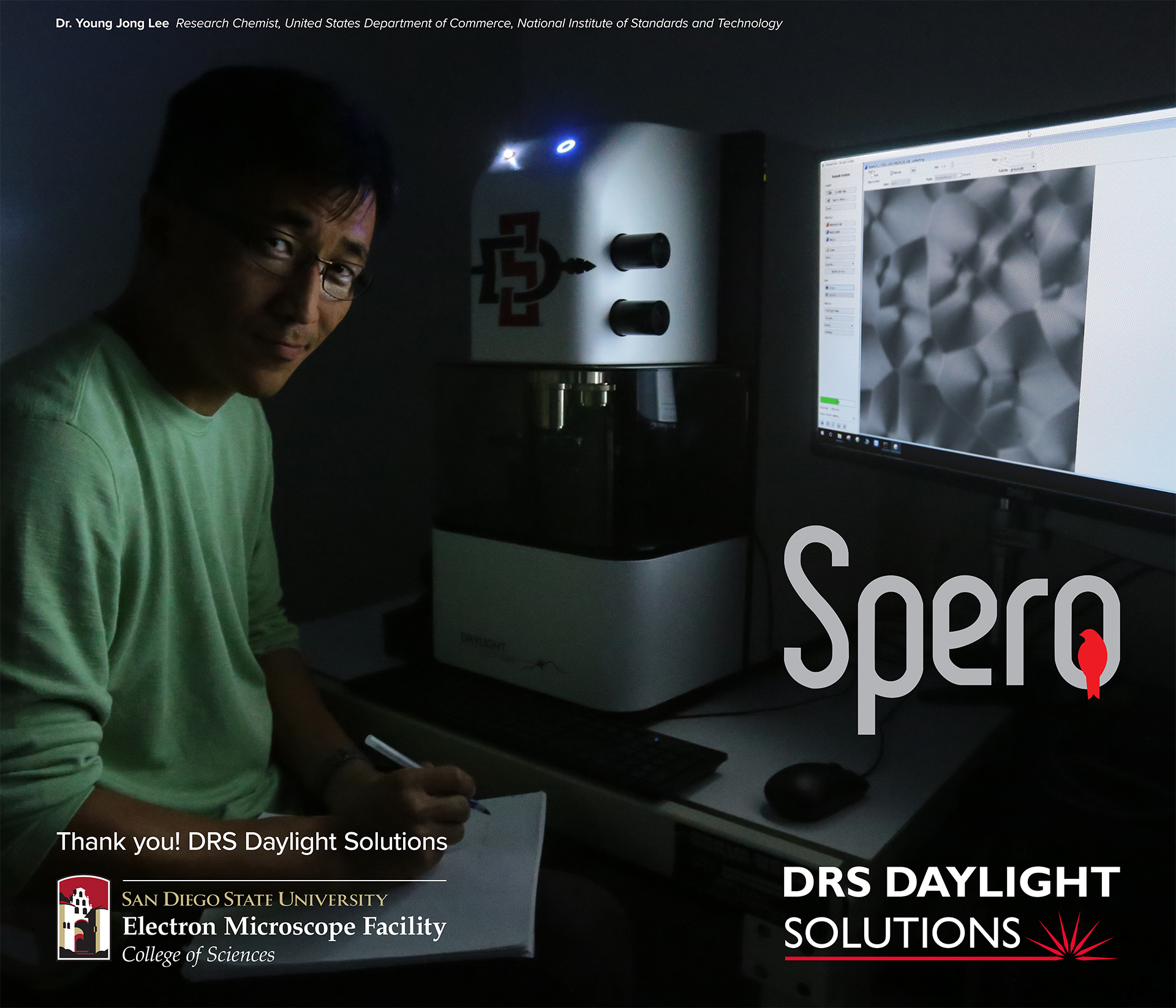 Visible Microscopically
Niesman researches amyloid plaques, a type of protein deposit, in the brains of people suffering from Alzheimer's disease. Using Spero's chemical imaging, she is now able to see where plaques form in the brain before the deposits are visible microscopically.
"We don't know where amyloids start to form. Is it intracellularly? Is it extracellularly? This instrument will allow us to see this at a real, defined, chemical level that nobody else has been able to see yet. It's going to be very powerful."
"It truly is an interdisciplinary instrument. It's a cutting-edge instrument," Tim Day said. "It has physics involved, it's got engineering, it's got optics, biology, material science."
In that way, Day said, it's the perfect technology to be housed in the EMIF next to the new Engineering and Interdisciplinary Sciences Complex, which opened in January and is part of a broader university effort to increase collaboration in STEM fields. The Thomas B. Day Quad, a courtyard in the center of the building, was dedicated in honor of Thomas Day, a theoretical physicist, and made possible by donations from the Day family.
Donating one of the company's trademark technologies to SDSU made perfect sense to the leaders of DRS Daylight Solutions, an infrared technology company that has deep connections to SDSU. Its three founders all received degrees from SDSU and more than a dozen of its San Diego office employees are SDSU alumni.
The SDSU community is coming together today to support student success. Here's how you can help: SDSU's Electron Microscopy Facility is an interdisciplinary research and instruction facility dedicated to visualizing our nano-world. With our current instrumentation,...
read more
Distinctive New Microscope at SDSU Allows for Groundbreaking Research
As a San Diego State University student in 1981, Tim Day could not have imagined that 37 years later he would be at the helm of a company that would make a truly transformative gift to the university's science enterprise.
Day is the son of SDSU President Emeritus Thomas Day and co-founder of DRS Daylight Solutions, a company that recently donated a $475,000 newly developed chemical imaging microscope called the SperoQT to SDSU's College of Sciences.
The instrument uses lasers to identify the chemical composition of a specimen, in addition to the visual markers of traditional microscopy.
Materials interact with light differently; for example, DNA and proteins each absorb light at a unique wavelength on the infrared spectrum. The microscope uses tunable infrared lasers to analyze these interactions and identify the chemical components of a sample, and build the components into a highly detailed image.
It's this way of unpacking the chemical makeup of a sample that sets the Spero apart from other microscopes. There are fewer than two dozen Spero microscopes in labs around the world, and the instrument's novel approach to analyzing materials allows for groundbreaking experiments.
Ingrid Niesman, director of SDSU's Electron Microscope Imaging Facility (EMIF), says faculty are already lining up to use this new technology, including a researcher who works on heart fibrosis and a scientist who examines how the flu affects lung tissue.